University Health recently received the Strive to Thrive Award from the nursing app, HOLLIBLU. The winning essay was written by a University Health nurse resident who details the positive experiences she receives at UH both professionally and personally. Take a moment to watch the video and read why she loves working at University Health in her own words.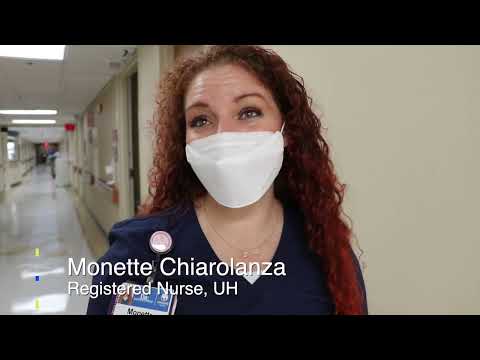 For the second year in a row, University Health has been recognized by Forbes magazine as one of the top employers in the nation. We are one of only 15 healthcare organizations on the list in the midsize category.
Forbes partnered with market research company Statista to identify the companies liked best by employees in their annual ranking of America's best employers. The ranking is divided into two lists: one for the top large companies with more than 5,000 U.S. employees, and another for the top midsize companies with 1,000 to 5,000.
The company surveyed 60,000 Americans working for businesses with at least 1,000 employees. Participants were asked to rate their willingness to recommend their own employers to friends and family, and to nominate organizations other than their own.
Truman Medical Centers/University Health (TMC/UH) is proud to announce that its newly redesigned website - TRUMED.org – has won two awards from eHealthcare Leadership Awards. This leading awards program recognizes the very best websites, digital communications, and business improvement initiatives of a wide range of healthcare organizations.
2020 Gold Award Best Site Design
The 2020 Gold Award Best Site Design is based on a number of criteria which include website design that is attractive and engaging, facilitates access to key site information and provides a strong branding with excellent usability.
2020 Platinum Award Best Doctor Directory
This award is based on ease of finding a doctor that meets a consumer's or referring physician's needs, their information is organized, extensive and interesting.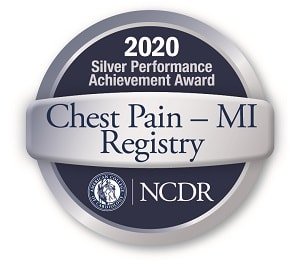 Truman Medical Centers/University Health is pleased to have received the American College of Cardiology's NCDR Chest Pain ̶ MI Registry Silver Performance Achievement Award for 2020. TMC|UH is one of only 124 hospitals nationwide to receive the honor.
The award recognizes our commitment and success in implementing a higher standard of care for heart attack patients and signifies that we have reached an aggressive goal of treating these patients to standard levels of care as outlined by the American College of Cardiology/American Heart Association clinical guidelines and recommendations.
To receive the award, TMC|UH demonstrated sustained achievement in the Chest Pain ̶ MI Registry for four consecutive quarters during 2019 and performed with distinction in specific performance measures. Full participation in the registry engages hospitals in a robust quality improvement process using data to drive improvements in adherence to guideline recommendations and overall quality of care provided to heart attack patients.
University Health is proud to receive Leader Status designation for the fourth year in a row from the Human Rights Campaign based on the Healthcare Equality Index (HEI). This designation recognizes healthcare organizations for policies and practices ensuring the equity and inclusion of lesbian, gay, bisexual, transgender and queer (LGBTQ) patients, visitors, and employees.
The Human Rights Campaign's scoring criteria looks at practices in the areas of:
Nondiscrimination and staff training
Patient services and support
Employee benefits and policies
Patient and community engagement
Being designated as a Leader in LGBTQ Healthcare Equality is the highest ranking available.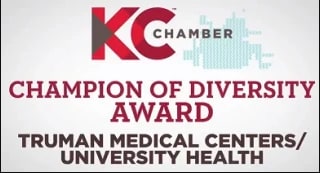 The KC Chamber Champion of Diversity Award recognizes a regional business that has made an impactful commitment to embracing diversity in their workplace, diversity supplier partnerships, and the community. The award goes to a business that can demonstrate adherence to practices that support the business case for workforce diversity as a strategic initiative by ensuring the diversification of staff, suppliers and community outreach is a normal part of their organizational practice, policy and culture. This Champion of Diversity business will be able to demonstrate their organizational practices are inclusive of all people no matter that person's race, national origin, religion, age, disability, marital status, veteran's status, military status, genetic information, sexual orientation or gender identity.
Truman Medical Centers/University Health is proud to be voted Kansas City Magazine's Best Place to Work Runner Up in its annual Best of KC 2020 Readers Choice Awards. Best of KC is a chance for Kansas City magazine readers to recognize their personal favorites in a variety of categories. The voting process takes three months and involves thousands of participants.
The College of Healthcare Information Management Executives (CHIME) is pleased to announce that University Health has earned 2021 CHIME Digital Health Most Wired recognition as a Certified Level 9 in both acute and ambulatory categories. This is the 11th consecutive year that our organization has received the designation.
The CHIME Digital Health Most Wired program conducts an annual survey to assess how effectively healthcare organizations apply core and advanced technologies into their clinical and business programs to improve health and care in their communities.

A total of 36,674 organizations were represented in the 2021 Digital Health Most Wired program, which includes four separate surveys: acute, ambulatory, long-term care and international acute. The surveys assessed the adoption, integration and impact of technologies in healthcare organizations at all stages of development, from early development to industry leading.
"University Health has long been a leader in incorporating technology into our clinical settings," said Mitzi Cardenas, Executive Chief Clinical Officer. "Being recognized nationally for this effort for this many years is a testament to our continued commitment to make healthcare accessible and efficient for our patients."
Truman Medical Centers/University Health is proud to announce it has been awarded Workplace Wellness Certification from the Greater Kansas City Chamber of Commerce's Healthy KC Workplace Wellness Initiative. "It's an honor to be recognized for the effort that we make, as an organization, to help keep our employees aware that their health matters," says Truman Medical Centers/University Health President and CEO Charlie Shields.
2018
We are one of the healthiest! TMC receives top honors from KC Chamber
TMC's healthy ways have been recognized!
For the second consecutive year, Truman Medical Centers/University Health was named a Healthy KC Certified Company by the Greater Kansas City Chamber of Commerce's Workplace Wellness Initiative. The designation signifies that the healthcare system has made wellness a priority for its staff.
Truman Medical Centers/University Health was certified platinum, the highest level. Healthy foods in the cafeteria and vending machines, on-site fitness facilities and group fitness classes are just a few ways TMC encourages good health for employees.
2017
It is no secret that the medical providers and staff at Truman Medical Centers/University Health are dedicated to the health and wellness of our patients. But as a healthcare organization, it is also dedicated to the health of its employees.
That is why TMC is proud to announce it has been awarded Workplace Wellness Certification from the Greater Kansas City Chamber of Commerce's Healthy KC Workplace Wellness Initiative. "It's an honor to be recognized for the effort that we make, as an organization, to help keep our employees aware that their health matters," says Truman Medical Centers/University Health President and CEO Charlie Shields. "TMC providers and staff spend their days caring for patients with complex medical conditions. When employees are feeling their best, they have their best to offer our patients."
TMC has made wellness a priority for everyone who works at the medical centers. Staff has healthy options to choose from when they head to the cafeteria for lunch. They can use their break to exercise and stretch at our Ralph L. Smith Wellness Center, where wellness coordinators offer 16 different classes each week.
The Wellness Team at Truman Medical Centers/University Health will continue to develop relevant and unique training so that all our staff can keep providing comprehensive care to every patient who chooses TMC.
Since 1994, the HIMSS Nicholas E. Davies Award of Excellence has recognized outstanding achievement in generating improvement of care outcomes and return on investment through the use of health information technology. The Davies Award program promotes electronic health record-enabled improvement in patient outcomes through sharing best practices and lessons learned on implementation strategies, workflow design, analytics and change management.
Achieving Stage 7 increases the level of quality and safety across your organization through:
Improved outcomes and efficiencies with information exchange.
Standards for clinical and financial data.
Data-driven performance improvement and quality initiatives.
Operational efficiencies that drive higher utilization of the health IT system.
Compliance and accountability for adoption of uniform documentation practices.
Ensuring that clinically relevant patient documentation resides in the "one patient record."
Truman Medical Centers/University Health is proud to have earned three Joint Commission Gold Seals of Approval® for its orthopaedic programs.
The Truman Medical Center Lakewood orthopaedics team has earned Advanced Gold Seal Certification for Total Joint Replacement – Knees and Hips (the first hospital in the Kansas City, Missouri, area to do so) and Gold Seal Certification for Total Joint Replacement – Shoulders.
Truman Medical Center Health Sciences District has earned Gold Seal Certification for Total Joint Replacement – Knees and Hips.
The Gold Seal recognizes TMC's dedication to excellent patient care before, during and after a total hip or total knee replacement. Our consistent, comprehensive approach to caring for patients makes both of our orthopaedics teams deserving of this prestigious designation.
The Joint Commission's Disease-Specific Care Certification Program is designed to evaluate clinical programs across the continuum of care. Certification requirements address three core areas: compliance with consensus-based national standards; effective use of evidence-based clinical practice guidelines to manage and optimize care; and an organized approach to performance measurement and improvement activities.
Health Data Management has selected Mitzi Cardenas as one of the Most Powerful Women in healthcare information technology. The awards are broken into three categories: Hospital CIOs & IT Executives, HIT Thought Leaders, and HIT Vendor Executives.
Raquel Garcia, BSN, RN
When she considers the deck stacked against her early in life, Raquel Garcia says that at times, even she is surprised by her own resilience. As she should be. The daughter of teen parents, she started working at age 14 to scrape together some college savings, even as she struggled in an all-English high school environment. Her teachers in college, she says, weren't convinced she would have the grades to graduate—they even encouraged her to take a career path other than nursing— and finding mentors was a constant challenge.
"Knowing that my assigned guidance counselors did not believe in me lit a fire inside of me. I was now determined to prove them wrong," she says. "Yes, I had to maintain a job while maintaining a full course load each semester and dwelled in areas of the city were crime and violence were a daily struggle, but I MADE IT." And the experience, she says, has made her "an even better nurse because I relate to the struggles of most."
She's the community health strategies nurse for Truman Medical Centers/University Health, which serves a greater proportion of low-income patients than any other regional hospital. And that means addressing health challenges associated with poverty. "I am able to tailor educational programs specific to the learning needs and levels of different communities," she says. "Although every hospital wants to see more patients to meet their bottom line, my goal is to keep them out of here. I want people to learn to self-manage their chronic diseases and not depend on the ER for treatment when things get bad." She says she's shocked at the lack of health education, especially among the young, "but I've realized that if we can reach children and help shape their health habits younger then we can help change their life paths before they take a wrong turn."
Pat Bock, Truman Medical Center Lakewood
Pat Bock is about as authentically Missouri as they come: A farm girl who grew up learning about "the value of hard work, the beauty of nature and the importance of community," she says. About 12 years ago, retirement opened up new opportunities for community service, says Bock, but "I've always belonged to organizations at church and in the community, so I knew the need, the calling and personal reward of service."
She saw how much a neighboring couple enjoyed volunteer work at Truman Medical Center (TMC) Lakewood and decided to try it. Her first job? Taking photos of newborns. "This made me too nervous," she confesses. "Trying to get a baby from whom you've just taken the pacifier to be happy and look content for a photo was not such a fun job for me."
A better fit came in the gift shop. "I love decorating! So I found what I felt most comfortable with here," Bock says. After a year in that role, she volunteered for an open slot doing the floral arrangements, at times as many as 14 a week. She has also been involved as an officer in the auxiliary, auxiliary fundraising, adopt-a resident, working in the Feld Courtyard Garden and other tasks as needed.
She earned her college degree in clothing and textiles, but made her career as a teacher, including a 12-year run before retiring at Fort Osage High School. "I sometimes see former students working in the healthcare field at TMC Lakewood and as patients," she says. "What a delight!"
In this role, she says, "I'm doing what I love. Perfect!! I need to be busy, so this job has been a real blessing for me. I love learning and that is a constant with this job. I highly recommend to everyone: Find a volunteer job. You will find such reward in helping others and you get so much more in return."
Doug Burgess, MD, Behavioral Health - Recovery Health Services
Outside of a spouse, perhaps, few people will have relationships that are as intimate as the one they'll have with their physician—someone who is likely to see you at your most vulnerable. That goes double for the relationship between patient and psychiatrist. Doug Burgess, MD, knows all about that. "I was drawn to psychiatry because people trust you with some of their most intimate stories, including the family dynamics," says Burgess. "You are part of the most formative things that happen in their lives, things they often share with you and nobody else. It's amazing to me—and maybe even more amazing because it was not something I set out to do."
The medical director for Truman Medical Centers/University Health outpatient psychiatry services is a St. Louis native who found his path to medicine early, thanks to a pediatrician who was "funny and engaging," Dr. Burgess recalls. But thoughts of a career in pediatrics and, later, orthopaedics yielded to psychiatry. "I enjoyed the challenge of having to approach patients differently," he says. "And I really enjoyed it because it was one of the few fields where you have real time to spend with patients."
While he's at the tip of the spear in a near-epidemic level of opioid abuse, Dr. Burgess knows that those drugs run a distant second to society's biggest substance challenge—alcohol. Irrespective of the substance, his time in the field has vastly reshaped his attitudes and understanding of what constitutes victimhood.
"As in intern in the emergency department, I would get frustrated with patients who would come in with alcohol or drug issues—I felt like this was the result of a choice, and these people were taking a bed that someone really sick needed," he says.
But working with those patients "opened my eyes, because I saw people over time, people engaged in effective treatments, and I got to see them get better. Once they could get through the initial phases of the addiction and get into treatment, they had the same values I had—they valued family, work, relationships. They had an illness and needed treatment. It opened my eyes and changed my career path."
Kamani Lankachandra
The operating room surgeon or ER physician is usually the one depicted on most of those network TV dramas; ditto for the officer nabbing the bad guy in the police melodramas. Maybe it's time to wed the best of medicine and investigative work and give Kamani Lankachandra her own show: After all, she combines the laboratory challenge of solving medical riddles with her mission to help diagnose patients suffering from all sorts of maladies. She's been a pathologist at Truman Medical Centers since 1996, following a series of globe-trotting that took her from her native Sri Lanka, where she earned her medical degree, to the United Kingdom, then stateside with her first post at the University of Maryland for training in her specialty. At that point, she came to Truman, and also accepted a teaching position at UMKC's school of medicine. "I always wanted to do medicine; I don't remember a particular reason behind it," Lankachandra says. But pathology was a different story. "I loved pathology during my medical school, she says. "My friends thought that was weird; not many medical students would have an aspiration to be a pathologist, to tell the truth. I like the critical nature and problem-solving aspect of pathology." Especially at Truman, she says, which "gives me the resources and the freedom to do what I do. I am eternally grateful." While the bulk of her work is in the lab, her connections with patients have produced some lasting memories. One of those involved a man who came to her office, concerned about a large lump in his neck. "I performed a procedure (fine needle aspiration) and found out it was cancer," she said. "We had a long conversation and he started crying. I somehow managed to get TMC financial counselling to help him and got him in for treatment. I thought about TMC physicians who encounter similar patients every day, this is why we do what we do at Truman." Of course, what they do at Truman has changed this year, thanks to COVID-19. Its impact on hospital operations has been profound, but was especially so in the late winter as the outbreak started. "This pandemic changed all of our lives, the way we do everything," Lankachandra says. "The first two weeks were daunting; I didn't know how to respond to anything. "Soon we regrouped—our TMC lab team became one big family," she says. "We all came to work without missing a day, and work we did! TMC administration was amazing, even to this date. They provided us with guidance, support and resources to do the job. TMC Incident Command Center became our life line for information and resources."
Source: Ingrams Magazine