Promoting Healing, Promoting Hope
As part of Women's History Month, the Equity, Diversity and Inclusion Council highlighted the ceaseless efforts of women as caregivers and frontline workers who have provided both healing and hope throughout history and through the ongoing pandemic.
Our panelists provided unique strategies for supporting and empowering women formally and informally, and tips for increasing resilience for women on the front lines.
We invite you to view the attached recording of this session and be inspired!
We extend appreciation to our panelists:
Hayat Abdullahi, Director, Community Health Strategies & Innovation
Lara Ashbaugh, Sr. Projects Coordinator, UH Behavioral Health
Cheryl Kearney, Supervisor Patient Access
Roxanne Pendleton, Sr. Implementation Specialist, Center for Trauma Informed Innovation
Markita Phillips, Supervisor, Employment Services, UH Behavioral Health
Gino Taylor, Director, Quality Improvement, UH Behavioral Health
Lynette Wheeler, COO UHLMC
Leslie Carto, Public Relations and Marketing, Moderator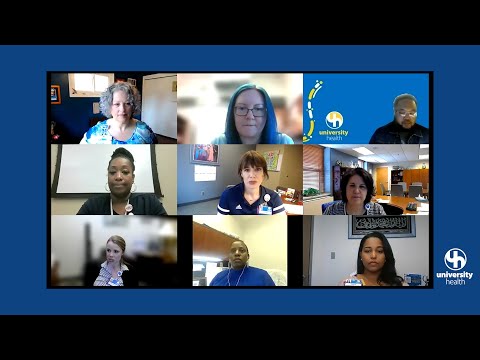 ---
At University Health, we are committed to embracing diversity and inclusion within our organization. It is essential to maintain a culture where individual differences and contributions are valued, and understanding those differences allows our organization to achieve a higher level of performance.
As University Health President and CEO Charlie Shields explains, diversity is more than just the right thing to do—it makes good business sense:
Diversity and inclusion are embedded in the way University Health interacts with staff, patients and community organizations.
University Health Diversity and Inclusion Councils
University Health Diversity and Inclusion Councils help guide the organization's vision in developing, implementing and maintaining diversity and inclusion strategies. There are two councils:
The Leaders Diversity and Inclusion Council. This council consists of staff members ranging from front-line staff to department managers and practitioners. The group brings forth initiatives and strategies to further the diversity and inclusion goals of University Health.
Executive Diversity and Inclusion Council. This council comprises executives and key physician leaders. It oversees and coordinates with the Leaders Council in developing, implementing and maintaining diversity and inclusion strategies and initiatives at University Health.
In addition, the Office of Diversity and Inclusion sponsors Business Resource Groups (BRGs), which support specific constituencies through education and initiatives. We currently support LGBTQ BRGs and Veterans BRGs.
University Health Supplier Diversity Program
The University Health Supplier Diversity Program is committed to working with historically underused businesses as suppliers, such as those owned by minorities, women, veterans, LGBT and service-disabled-veterans. Visit our supplier diversity program page for more information.
Community partnerships
In striving to build a diverse community, University Health partners with a wide range of community groups to leverage their expertise, as well as expand the hospital's reach. From hosting panel discussions to co-sponsoring events, our partnerships are vital to our mission.
Diversity and inclusion community partners
Black Nurses Rock.
Greater Kansas City Black Nurses Association.
Mid-America LGBT Chamber of Commerce.
Greater Kansas City Business Leadership Network.
Heartland Black Chamber of Commerce.
Hispanic Chamber of Commerce.
Greater Kansas City Chamber of Commerce.
Missouri Nurses Association.
National Association of Hispanic Nurses.
Philippine Nurse Association.
Event videos
Academy award winner Kevin Willmott, the creator of From Separate to Equal: The Creation of Truman Medical Center, discusses the groundbreaking documentary as it relates today in light of the COVID-19 pandemic and the historical health inequities that persist in the U.S. Willmott is an Academy Award and Bafta Award winning screenwriter and filmmaker who has written and directed several feature films including Ninth Street, CSA – Confederate States of America, The Only Good Indian, The Battle for Bunker Hill, Destination Planet Negro! and Jayhawkers.
Glenn North, poet, speaks with Maria Morgan, Chief Diversity, Equity, and Inclusion officer with UH.
UH Co-sponsored a community-wide forum in conjunction with Black History Month,
COVID-19 VACCINE: FACT OR FICTION?
Featuring our own Dr. Michael Moncure, trauma surgeon.
This is us
Don't just take our word for it. Hear from some of our employees on how diversity at University Health affects their work and lives:
For the past three years, University Health has been named a healthcare equality leader by the Human Rights Campaign Foundation, a civil rights organization, on its healthcare equality index.