Why work at University Health?

At University Health, we are engaged with Disability Inclusion of Greater Kansas City to help us advance our inclusion efforts in the workplace and marketplace as we strive to be an employer of choice for people with disabilities.
For more information, visit https://www.disabilityin-gkc.org/
---
What Makes University Health Unique
University Health recently received the Strive to Thrive Award from the nursing app, HOLLIBLU (now Nurse.com). The winning essay was written by a University Health nurse resident who details the positive experiences she receives at UH both professionally and personally. Take a moment to watch the video and read why she loves working at University Health in her own words.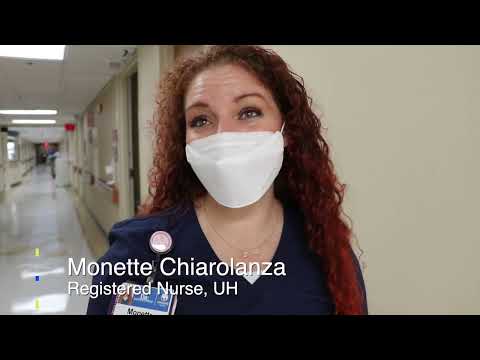 ---
We believe in the importance of investing in our employees, and offer a generous array of benefits. We take exceptional pride in the challenging and rewarding career paths we offer our employees, as well as the educational support we provide them. Providing accessible, quality healthcare to all patients who walk through our doors forms the foundation of what we do at University Health.
If you do not see the position you are looking for or have questions, please contact one of our recruiters at recruit@uhkc.org or join our talent network for future positions.
The culture
Working at University Health is about making a difference. It means providing the best possible care to every patient every day. The culture is one of teamwork, collegiality, professionalism, mutual respect and accountability, creating an exceptional place to work.
Healthy KC certified company
University Health has been named a Healthy KC Certified Company by the Greater Kansas City Chamber of Commerce's Workplace Wellness Initiative. The designation signifies that University Health has made wellness a priority for its staff.
University Health was certified platinum, the highest level. Healthy foods in the cafeteria and vending machines, on-site fitness facilities and group fitness classes are just a few ways the healthcare system encourages good health for employees.
Commitment to diversity, equity and inclusion
University Health is committed to being a leader in providing culturally inclusive health care services for patients in ways that are effective, fair, equitable, respectful and culturally competent and in providing a culturally inclusive workplace for employees. We value and celebrate our differences, which include, but are not limited to, race, ethnicity, language, national origin, age, socioeconomic status, literacy, gender identity and expression, sexual orientation, mobility, abilities, veteran status, and faiths and beliefs.
Baby-friendly
University Health is the first Baby-Friendly hospital in Kansas City, Missouri, and the second in Missouri as designated by the World Health Organization. Both University Health Lakewood Medical Center and University Health Truman Medical Center have this designation.
The Baby-Friendly Hospital Initiative (BFHI) is a global program by WHO and the United Nations Children's Fund (UNICEF) launched in 1991 to encourage and recognize hospitals and birthing centers when they have implemented the Ten Steps to Successful Breastfeeding. The steps promote breastfeeding as the generally preferred method for providing nutrition to newborns and infants.
Tobacco-free
University Health is committed to promoting and supporting a healthy community. Because tobacco use is the leading preventable cause of disease and death in the United States, we do not hire people who smoke and smoking is not allowed anywhere on our campuses.
Nursing
As a nurse at University Health, you're among the best of the best. You'll discover a supportive, fast-paced environment where your life and the lives of the patients you serve are enriched. University Health that places a priority on never compromising care and always putting patients before profits. University Health supports its staff personally and professionally with a variety of programs for professional growth and education, including a clinical career ladder that encourages professional development.
As an academic medical center, we are looking for high-caliber nurses who are committed to service, integrity and excellence to join our downtown Kansas City and suburban Jackson County locations.
If you are an experienced nurse looking for a career at a place where things are done differently and what you do makes a difference, discover University Health.
University Health has award-winning hospitals, programs and people.