Student Career Pipelines
Career Pipeline Programs promote opportunities for UH employee development and retention by creating internal and external career pipelines. Pipeline participants receive FREE education and training for their specific program, are paid while on-site working, and have the opportunity to transition from apprentice to employee at the completion of their program. Students must be 18 years of age or older and have a High School Diploma, GED or equivalent.
Medical Assistant Apprentice: The Medical Assistant Apprentice program is a collaboration between Metropolitan Community College, University Health and the Full Employment Council. Students are enrolled in a 12 month program, attending class with a faculty member from MCC 4 hours per week, and on-line didactic training 10-12 hours a week. During their training, students gain hands-on experience in one of the Ambulatory Care clinics and work with a specially trained Medical Assistant Preceptor. After a successful completion of the program, students are eligible to become Certified Medical Assistants.
Phlebotomy Trainee Program: Phlebotomists collect blood from patients and prepare the samples for testing. The Phlebotomy Trainee program at University Health provides paid training to become qualified phlebotomists in 8-10 days. Trainees are considered full-time employees and qualify for UH benefits. At the conclusion of the program, University Health requires a 6 month commitment of employment as a Phlebotomist.
CNA Training Program- Lakewood: Certified Nursing Assistants provide personal care, comfort measures, and supportive care to patients as assigned by licensed personnel. If you currently have technician or nursing assistant status and have not completed the state-defined competency and skills testing, you can further your training to become a CNA at University Health.
*To learn more about one of our Student Career Pipeline Programs, please email careerconnections@uhkc.org
Student Experiences
In-School Presentation:
A University Health Career Connections employee will visit your classroom to educate students on career pathways in the healthcare field. Students will get the chance to reflect on their own interests, learn about clinical and non-clinical career pathways, and ask questions about University Health.
*For more information or to set up a guest speaker for your classroom, email careerconnections@uhkc.org
Career Tour: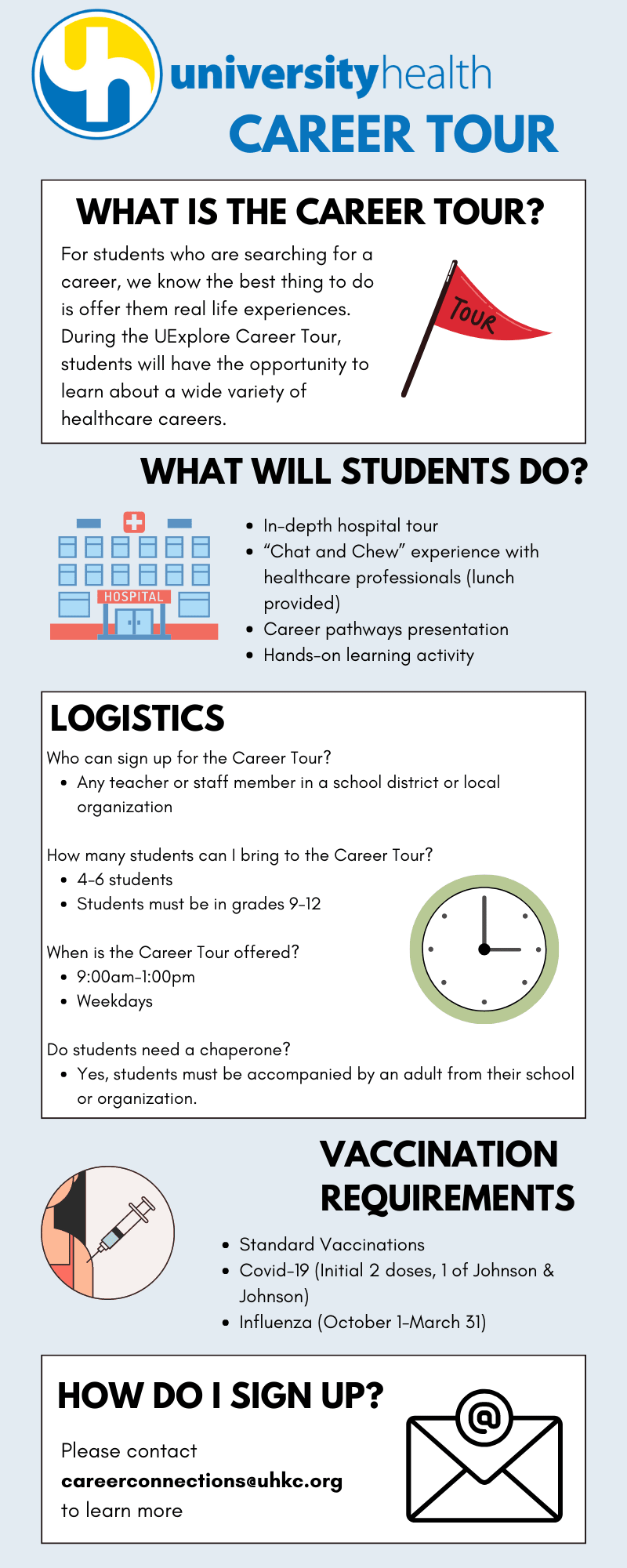 Teacher Externship: