---


To see other testing locations through the State of Missouri, click here https://bit.ly/3HQMoRs
---
Protecting your health: COVID-19 update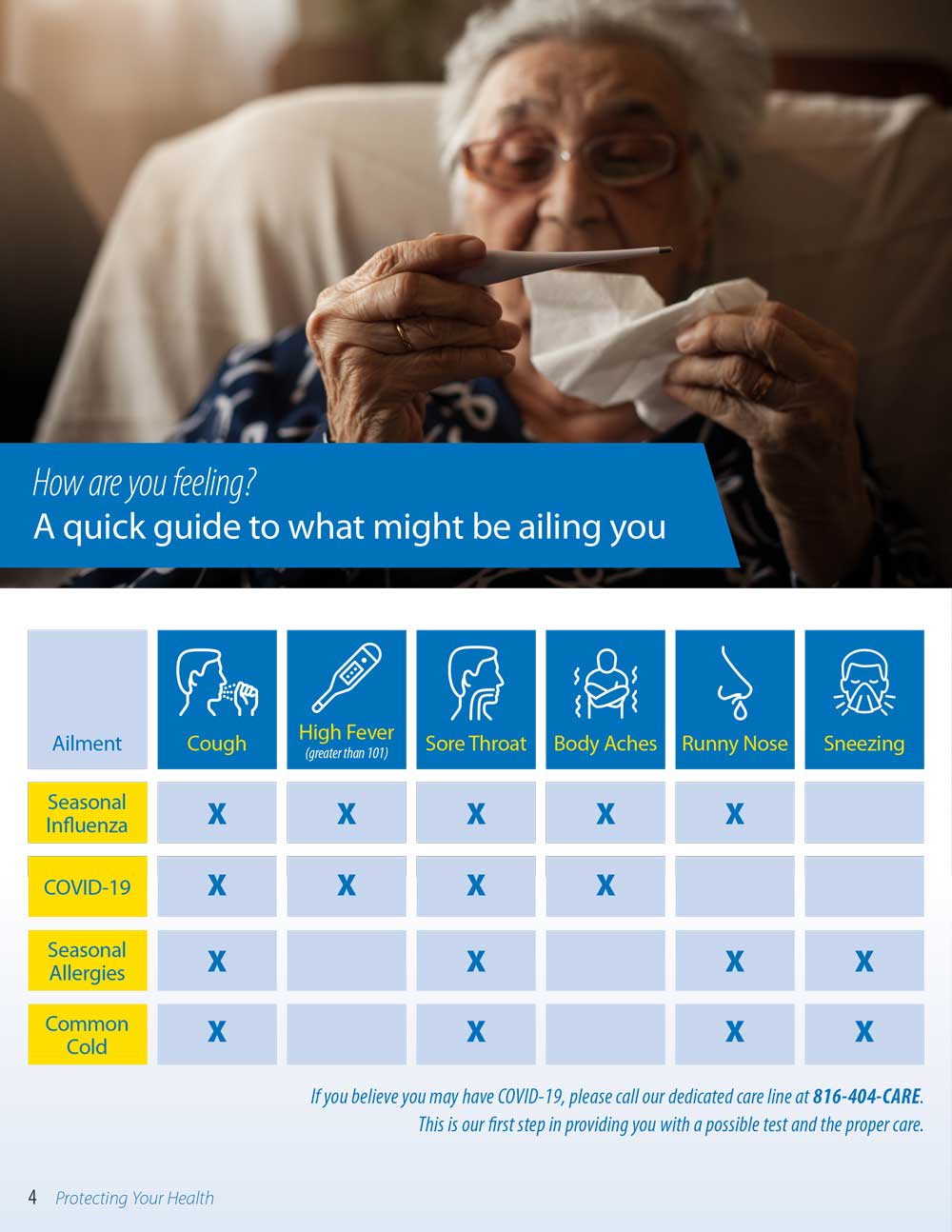 At University Health, your health and safety is our first priority. We are closely monitoring developments with COVID-19 and working with area and federal health officials to do everything we can to keep our community safe. As we navigate our new normal, we will continue to provide you with the latest COVID-19 information. You also can view updates from the Centers for Disease Control and Prevention.
Safety precautions
The University Health Infection Prevention Team already follows a strict protocol designed to keep patients, visitors and staff safe. By using protective equipment, isolation rooms with negative pressure airflow, and proper hand hygiene, we minimize the risk so you can confidently plan and receive the important care you need.
We offer a range of doctor appointment types to meet your needs, including in-person visits and telehealth options by computer or phone. If you decide on an in-person appointment, it's safe to come to UH. We take every precaution to maintain a clean, virus-free environment.
Masks are not required when entering the hospital and clinics, but are available for patients and visitors at our main entrances.
We are continually sterilizing and wiping down all work and patient areas.
We have virtual check-in and check-out for appointments, done by phone.
Surgery patients who will be admitted will receive a COVID test the day of the procedure.
University Health is prescreening patients for COVID-19 before they arrive. When calling with appointment reminders, staff ask patients if they are running a fever, experiencing a cough and experiencing shortness of breath. Patients also are asked if they have had contact with anyone with COVID-19 or experiencing symptoms.
If you are feeling ill, running a fever and have shortness of breath, please call before coming to University Health. Please call 816.404.CARE (2273). It is important that you call.
Visitor Rules
We have updated our visitor policy as of December 14, 2022. Visitor guidelines comply with the Compassionate Care Visitation Act.
Visitors for inpatients must be 13 years or older, unless childcare arrangements cannot be made or compassionate care access is granted.
Children 12 and under are allowed to accompany adults for clinic visits.
We continue to restrict visitors for our COVID-19 positive patients. Compassionate access requests are evaluated on a case-by-case basis.
Visitors will be allowed in based on the exception list outlined below. The exception list applies provided there is an absence of symptoms on screening and the patient is COVID negative.
Please keep visits brief.
Please stay in your patient's room or area while visiting.
Children should not be left unattended anywhere on hospital grounds.
Visitors to our Health Sciences District Campus (downtown) may enter: the main lobby (circle drive just north of 23rd and Holmes), the Emergency Room, or the Charlotte Street entrance. On the weekends, visitors are only allowed to enter through the Emergency Department.
Lakewood Visitors please use main entrance.
Visitors are asked not to sit or lie on the patient's bed, and to not use the patient's restroom.
Visitors with colds, flu or other contagious diseases are asked not to visit patients.
Visitors and patients should be respectful of other patients and keep noise to a minimum.
Visitors must check with the nursing unit before bringing food or gifts to the patient's room. Patients may be on special diets and certain foods are restricted.
Visitors are asked to not visit other patients on the unit, touch equipment or change the position of a patient or their bed without consulting the nurse.
No visitors will be allowed in the room while treatment or doctor or nursing care is in progress. Your visitor(s) may be asked to step outside your room during these times.
Visitors should wash their hands upon entering and leaving the patient room.
Visiting hours
General visiting hours are from 6:00 am to 8:30 pm.
The Birthplace follows general visiting hours. However, after-hours births do allow for visitors. After 8:30 pm, all visitors must check in at the security booth just outside the Emergency Department.
Mothers and fathers can visit an infant in the Neonatal Intensive Care Unit (NICU) at any time. Visitors must check in at the front desk of the NICU and the Maternity Unit 24 hours a day, 7 days a week.
Critical Care Units have open visiting with some restrictions. Always check with the nurse.
Thank you for your understanding.
Frequently asked questions and answers
The information below is from the CDC.
A novel coronavirus is a new coronavirus that has not been previously identified. The virus causing coronavirus disease 2019 (COVID-19) is not the same as the coronaviruses that commonly circulate among humans and cause mild illness, like the common cold.
A diagnosis with coronavirus 229E, NL63, OC43 or HKU1 is not the same as a COVID-19 diagnosis. Patients with COVID-19 will be evaluated and cared for differently than patients with common coronavirus diagnosis.
This virus was first detected in Wuhan City, Hubei Province, China. The first infections were linked to a live animal market, but the virus is now spreading from person-to-person. It's important to note that person-to-person spread can happen on a continuum. Some viruses are highly contagious (like measles), while other viruses are less so.
The virus that causes COVID-19 seems to be spreading easily and sustainably in the community ("community spread") in some affected geographic areas. Community spread means people have been infected with the virus in an area, including some who are not sure how or where they became infected.
Quarantine means separating a person or group of people who have been exposed to a contagious disease but have not developed illness (symptoms) from others who have not been exposed, in order to prevent the possible spread of that disease. Quarantine is usually established for the incubation period of the communicable disease, which is the span of time during which people have developed illness after exposure. For COVID-19, the period of quarantine is 14 days from the last date of exposure, because 14 days is the longest incubation period seen for similar coronaviruses. Someone who has been released from COVID-19 quarantine is not considered a risk for spreading the virus to others because they have not developed illness during the incubation period.
It is not yet known whether weather and temperature impact the spread of COVID-19. Some other viruses, like the common cold and flu, spread more during cold weather months but that does not mean it is impossible to become sick with these viruses during other months. At this time, it is not known whether the spread of COVID-19 will decrease when weather becomes warmer. There is much more to learn about the transmissibility, severity and other features associated with COVID-19, and investigations are ongoing.
Early information out of China, where COVID-19 first started, shows that some people are at higher risk of getting very sick from this illness including older adults, and people who have serious chronic medical conditions like heart disease, diabetes and lung disease.
If you are at higher risk of getting very sick from COVID-19, you should: stock up on supplies; take everyday precautions to keep space between yourself and others; when you go out in public, keep away from others who are sick; limit close contact and wash your hands often, and avoid crowds. If there is an outbreak in your community, stay home as much as possible. Watch for symptoms and emergency signs. If you get sick, stay home and call your doctor.