May 16, 2023
University Health now offers the second Bivalent Pfizer Booster for people 65 years old and older as well as people who are immunocompromised. We also offer the Pfizer bivalent boosters for kids ages 5 years and older.
You can receive yours at University Health 2 (2211 Charlotte St) on Wednesdays between 7am – 11am, or at our Lakewood Pavilion location (7900 Lee's Summit Rd) by calling (816)404-CARE to schedule an appointment.
Individuals 5 years old and older are eligible for a single booster dose of the Pfizer-BioNTech COVID-19 Vaccine Bivalent if it has been at least two months since they have completed primary vaccination or have received the most recent booster dose with any authorized or approved monovalent COVID-19 vaccine.
Please call 816-404-CARE to schedule an appointment.
Hours and locations include:

University Health 2 at 2211 Charlotte St., KCMO
Wednesdays 7 am – 11 am
Lakewood Medical Center at 7900 Lee's Summit RD
Come to Lakewood Pavilion
By appointment
University Health (UH) has been a leader in COVID testing and safely distributing the COVID-19 vaccine to all communities in Jackson County. We know you may have many questions so please check back regularly for updates about COVID-19 vaccine distribution.
Download the COVID-19 FAQ Sheet (PDF)
Updated May 5, 2023
University Health is now providing Novavax COVID-19 vaccine. Please call 816-404-CARE to schedule an appointment.
University Health is now providing Pfizer booster shots for COVID-19. If you are eligible, you can schedule an appointment by calling 816-404-CARE or walk in at either the downtown or Eastern Jackson County campus..
Currently, Pfizer-BioNTech booster shots are available to everyone age 5 old and older.

Call 816.404.3280
Getting your COVID-19 vaccine is easy and convenient.
Come to one of our two clinics where we offer Pfizer vaccine (primary series) to people 6-months old and older:
The COVID-19 vaccine is available to children at least 6-months old and older at University Health 2 (2211 Charlotte St., KCMO 64108). Established patients may make an appointment with their child's provider at the Med/Ped's clinic at UHTMC or the Family Medicine Clinic at UHLMC. Call 816-404-2273 (CARE) to schedule those appointments.
Need a free ride to get the vaccine?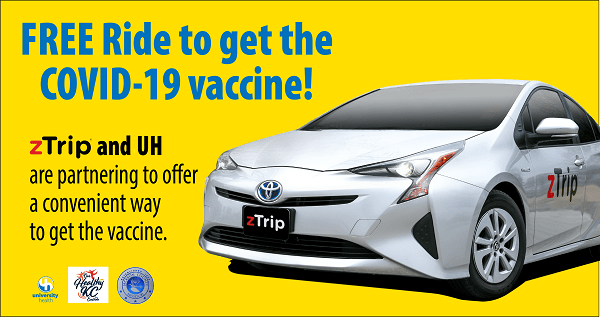 It's easy! Call 913.647.0010 and use code "VACCINE ME". The ride is free to our downtown location. There's no cost to you for the vaccine.
Updated November 4, 2021:
---
The CDC has recommended immunocompromised people receive a third dose of the Pfizer.
These conditions and treatments include but are not limited to:
Active cancer treatment for tumors or cancers of the blood
Receipt of solid-organ transplant and taking medicine to suppress the immune system
Receipt of CAR-T cell or stem cell transplant (within 2 years of transplantation or taking medicine to suppress the immune system)
Moderate or severe primary immunodeficiency (e.g., DiGeorge syndrome, Wiskott-Aldrich syndrome)
Advanced or untreated HIV infection
Active treatment with high-dose corticosteroids (i.e., ≥20mg prednisone or equivalent per day), alkylating agents, antimetabolites, transplant-related immunosuppressive drugs, cancer chemotherapeutic agents classified as severely immunosuppressive, tumor-necrosis (TNF) blockers, and other biologic agents that may suppress the immune system
If you request the third dose, you will need to complete an attestation form that shows you meet one of the above conditions when you arrive. You can schedule an appointment by calling 816.404.CARE (2273), or walk in to one of our clinics (see above times/locations). If you received Moderna, it's recommended you schedule an appointment by calling 404-CARE.
---
Replacement vaccine card
ShowMeVax immunization records can be requested via email or fax. Individuals are able to complete the Request for Official State of Missouri Immunization Records form and the DHSS will send them a copy of the immunization record on file in ShowMeVax - our statewide registry. Or email the completed form to ImmunizationRecordRequests@health.mo.gov or fax to 573.526.0238.
Why should I get the COVID-19 vaccine?
The COVID-19 vaccines produce protection against the disease, as a result of developing an immune response to the SARS-Cov-2 virus. This immunity helps you fight the virus if exposed. Getting vaccinated may also protect people around you, because if you are protected from getting infected and from disease, you are less likely to infect someone else. This is particularly important to protect people at increased risk for severe illness from COVID-19, such as healthcare providers, older or elderly adults, and people with other medical conditions.
What information do I need to provide to get vaccinated?
Please bring your photo ID and insurance card if you have one. When you return for your second dose, please bring your vaccine card, along with your photo ID and insurance information.
What is in the vaccine?
What is an mRNA vaccine? mRNA stands for "messenger ribonucleic acid" and it encodes the instructions for your body to make a specific protein (Spike protein) on the surface of the SARS-CoV-2 virus. When your body makes this viral protein, your body develops antibodies to it. These antibodies protect you if you later encounter the virus.
The Pfizer COVID-19 vaccine trial with over 40,000 participants resulted in a 95-percent effective rate against COVID-19 beginning 28 days after the first of two doses of the vaccine. Pfizer reports the vaccine was well tolerated with headache and fatigue as the most common side effects. For the latest on the Pfizer vaccine visit pfizer.com.
Can the COVID-19 vaccine give me COVID?
Is there live virus in the vaccine? None of the COVID-19 vaccines have live SARS-CoV-2 virus. The mRNA vaccines cannot give you or anyone else COVID-19. The vaccine does not make you contagious.
Will the COVID-19 vaccine make me test positive for COVID-19 if I am tested after being vaccinated?
No. The vaccine will not cause you to test positive on viral tests for COVID-19 infection. The vaccine will likely cause you to test positive for antibody tests (also called serology) since the vaccine helps build antibodies to COVID-19.
Should I worry that the vaccine was made so quickly?
No. All vaccines going for approval must meet high U.S. standards of safety. The COVID-19 vaccines for the U.S. were supported by government funds to speed up: trial enrollment, so the trials could quickly enroll tens of thousands of participants; manufacturing, to increase manufacturing sites and employees; and distribution, to enable produced vaccines to be shipped rapidly around the U.S. and worldwide.
Am I protected as soon as I receive the vaccine?
You should follow all policies, protocols, and public health orders related to COVID-19. Experts believe that 70% of the population needs to be vaccinated before the pandemic will be over.
What side effects do the vaccines have? Do I have to do any planning?
There may be side effects that feel like the flu, but that doesn't mean you are infected or contagious. Instead, it means that your body is successfully generating an immune response to provide you protection. Get your vaccine when you don't have anything important planned in the next day or two, just in case you experience side effects.
What if I get the first dose and then don't want the next dose?
Even though the overall data suggests some benefit after the first dose, you should plan to receive a second dose for the best protection against COVID-19.
What if I missed my second dose? Can I get it late?
Try to be on time with your second dose because the data on vaccine benefit was based upon a fixed number of weeks between doses (3 weeks between Pfizer doses; 4 weeks between Moderna doses). If you are late, you should still receive the second dose.
I already had COVID-19. Am I supposed to get the vaccine?
Yes. If you have had COVID-19, you should still receive the vaccine. Don't receive the vaccine while you are infected, but after you recover and return to normal activities, you can and should receive the vaccine.
If I have allergies to food or medication, should I worry about having an allergic reaction to the vaccine?
Having a significant allergy to a food or medication does not necessarily mean that you are at higher risk for an allergic reaction to the COVID vaccine. For individuals who have serious allergies, please consult with your doctor.
How much will the vaccine cost?
If you have Medicaid, Medicare, or the UH blue or yellow card or if you are uninsured, there will be no cost to you. Most private insurance carriers are covering the COVID administrative fee with no cost to consumers. To confirm you should check with your insurance company first.
Should I take anything like Tylenol or ibuprofen before getting the vaccine dose?
At this time, it is not known for certain if taking an over-the-counter medication such as Tylenol or ibuprofen prior to the shot will somehow impede its effectiveness. The best time to take any over-the-counter medication is if you develop symptoms after you receive the vaccine. However, if you regularly take these types of over-the-counter medications for other medical conditions, please continue to do so as recommended by your doctor or as needed.
If you have additional questions about the vaccine click here to get more information from the Missouri Department of Health and Senior Services.