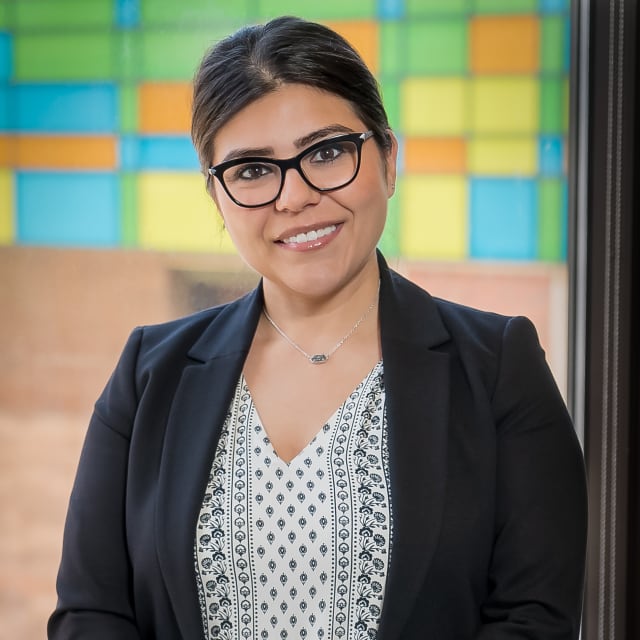 Raquel Garcia, BSN, RN
When she considers the deck stacked against her early in life, Raquel Garcia says that at times, even she is surprised by her own resilience. As she should be. The daughter of teen parents, she started working at age 14 to scrape together some college savings, even as she struggled in an all-English high-school environment. Her teachers in college, she said, weren't convinced she would have the grades to graduate—they even encouraged her to take a career path other than nursing— and finding mentors was a constant challenge.
"Knowing that my assigned guidance counselors did not believe in me lit a fire inside of me. I was now determined to prove them wrong," she says. "Yes, I had to maintain a job while maintaining a full course load each semester and dwelled in areas of the city were crime and violence were a daily struggle but I MADE IT." And the experience, she says, has made her "an even better nurse because I relate to the struggles of most."
She's the community health strategies nurse for Truman Medical Centers, which serves a greater proportion of low-income patients than any other regional hospital. And that means addressing health challenges associated with poverty. "I am able to tailor educational programs specific to the learning needs and levels of different communities," she says. "Although every hospital wants to see more patients to meet their bottom line, my goal is to keep them out of here. I want people to learn to self-manage their chronic diseases and not depend on the ER for treatment when things get bad." She says she's shocked at the lack of health education, especially among the young, "but I've realized that if we can reach children and help shape their health habits younger then we can help change their life paths before they take a wrong turn."
Pat Bock, Truman Medical Center-Lakewood
Pat Bock is about as authentically Missouri as they come: A farm girl who grew up learning about "the value of hard work, the beauty of nature and the importance of community," she says. About 12 years ago, retirement opened up new opportunities for community service, says Bock, but "I've always belonged to organizations at church and in the community, so I knew the need, the calling and personal reward of service."
She saw how much a neighboring couple enjoyed volunteer work at Truman, and decided to try it. Her first job? Taking photos of newborns. "This made me a too nervous," she confesses. "Trying to get a baby from whom you've just taken the pacifier to be happy and look content for a photo was not such a fun job for me."
A better fit came in the gift shop. "I love decorating! So I found what I felt most comfortable with here," Bock says. After a year in that role, she volunteered for an open slot doing the floral arrangements, at times as many as 14 a week. She has also been involved as an officer in the auxiliary, auxiliary fundraising, adopt-a resident, working in the Feld Courtyard Garden and other tasks as needed.
She earned her college degree in clothing and textiles, but made her career as a teacher, including a 12-year run before retiring at Fort Osage High School. "I sometimes see former students working in the health-care field at TMCL and as patients," she says. "What a delight!"
In this role, she says, "I'm doing what I love. Perfect!! I need to be busy, so this job has been a real blessing for me. I love learning and that is a constant with this job. I highly recommend to everyone: Find a volunteer job. You will find such reward in helping others and you get so much more in return."