JCHD reaches out to tornado stricken Oak Grove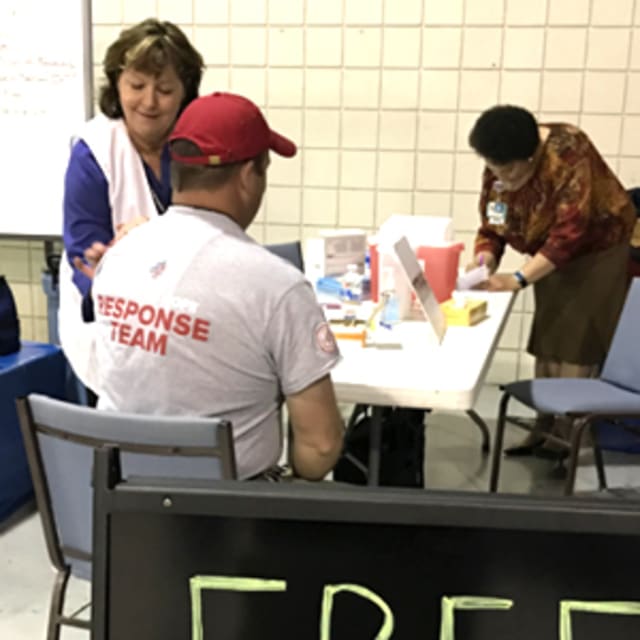 Days after a tornado ripped through the small town of Oak Grove, damaging nearly 500 homes, groups of volunteers began their efforts to clean up and rebuild the community.
The Jackson County Health Department (JCHD) was one of those groups. TMC manages and operates the JCHD.
A team from the health department was on site for four days providing free tetanus vaccinations to volunteers and responders, helping to keep them safe as they sorted through the debris.
"A primary responsibility of the Health Department is to protect the health and safety of all residents should a natural or deliberate public health emergency occur," said Bridgette Casey, the health department director. "Whenever the need arises, we make sure we are there to serve the the community."
If you would like to help the people of Oak Grove, there are several ways:
Volunteers:
Anyone wishing to volunteer is asked to do so through the United Way of Greater Kansas City by visiting www.211.org or calling 2-1-1 to check in before their pre-scheduled time slot at the New Life Church located at 801 First Street, Oak Grove.
Donations:
Those who have lost their homes need personal care items, baby formula and diapers, new clothing for children, school supplies, storage bins, and food items. If you have items you would like to contribute, you may drop them off at TMC Lakewood in the executive offices located on the second floor and they will be delivered to the Community Service League in Independence. Donations for the Oak Grove area also can be dropped off at the Independence Community Services League location at 404 N. Noland Road from 8 am to noon and 1-5 pm, Monday through Friday. Donations also are accepted on Mondays and Wednesdays at the Blue Springs office located at 200 SW 10th Street, Blue Springs and the Grain Valley office located at 207 W Walnut Street, Grain Valley.
In addition, the United Way of Greater Kansas City is coordinating donations. They can be reached by visiting www.211.org or calling 2-1-1