TMC Health Sciences District earns Baby-Friendly designation
Hospital news
|
Friday, May 1, 2020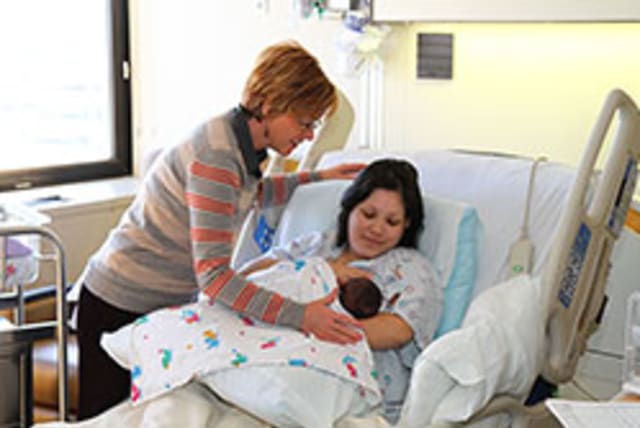 Truman Medical Center (TMC) Health Sciences District has earned the international "Baby-Friendly" designation from Baby-Friendly USA, Inc. This makes TMC the first in the metro area and only the second in the State of Missouri to earn this prestigious designation. There are more than 20,000 designated Baby-Friendly hospitals and birth centers worldwide. Currently there are 208 active Baby-Friendly hospitals and birth centers in the United States.
"We are thrilled and honored to have earned this international designation and be the first and only hospital in the area to be 'Baby-Friendly,'" said Lynette Wheeler, TMC Chief Nursing Officer. "The goal of this endeavor is to encourage the natural instincts of a new mom and create that immediate bond with skin-to-skin contact and allowing infants to stay in the same room at all times with their mothers. This and the other steps all help both mom and the new baby start off with a happier, healthier life."
The Baby-Friendly USA Ten Steps to Successful Breastfeeding were developed by a team of global experts and consist of evidence-based practices that have been shown to increase breastfeeding initiation and duration. Baby-Friendly hospitals and birthing facilities must adhere to the Ten Steps to receive, and retain, a Baby-Friendly designation.
The Ten Steps to Successful Breastfeeding are:
Have a written breastfeeding policy that is routinely communicated to all health care staff.
Train all health care staff in the skills necessary to implement this policy.
Inform all pregnant women about the benefits and management of breastfeeding.
Help mothers initiate breastfeeding within one hour of birth.
Show mothers how to breastfeed and how to maintain lactation, even if they are separated from their infants.
Give infants no food or drink other than breast-milk, unless medically indicated.
Practice rooming in - allow mothers and infants to remain together 24 hours a day.
Encourage breastfeeding on demand.
Give no pacifiers or artificial nipples to breastfeeding infants.
Foster the establishment of breastfeeding support groups and refer mothers to them on discharge from the hospital or birth center.
Becoming a Baby-Friendly facility is a comprehensive, detailed and thorough journey toward excellence in providing evidence-based, maternity care with the goal of achieving optimal infant feeding outcomes and mother/baby bonding. It compels facilities to examine, challenge and modify longstanding policies and procedures. It requires training and skill building among all levels of staff. It entails implementing audit processes to assure quality in all aspects of maternity care operations. The "Baby-Friendly" designation is given after a rigorous on-site survey is completed. The award is maintained by continuing to practice the Ten Steps as demonstrated by quality processes.
About Baby-Friendly USA, Inc
Baby-Friendly USA, Inc is the U.S. authority for the implementation of the Baby-Friendly Hospital Initiative ("BFHI"), a global program sponsored by the World Health Organization (WHO) and the United Nations Children's Fund (UNICEF). The initiative encourages and recognizes hospitals and birthing centers that offer an optimal level of care for breastfeeding mothers and their babies. Based on the Ten Steps to Successful Breastfeeding, this prestigious international award recognizes birth facilities that offer breastfeeding mothers the information, confidence, and skills needed to successfully initiate and continue breastfeeding their babies.