University Health, downtown's only freestanding outpatient specialty and surgery center opens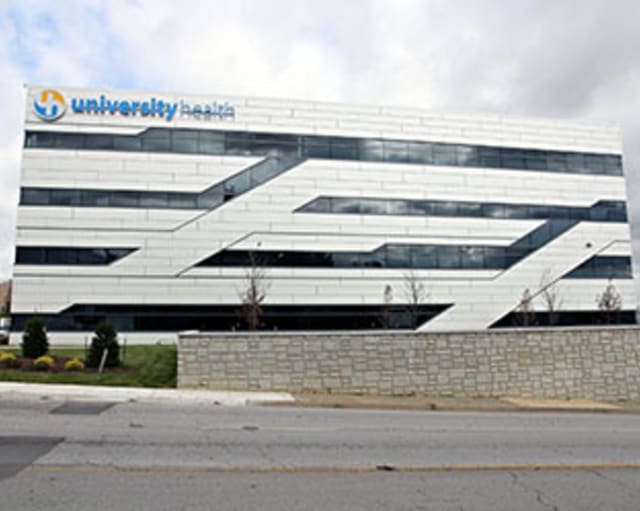 University Health (services provided by Truman Medical Centers), downtown Kansas City's new and only freestanding outpatient specialty and surgery center, opened today with a ceremonial grand opening and ribbon-cutting. University Health, 2101 Charlotte Street, offers the latest in technology, including 3-D mammography and a state-of-the-art surgical center with capability for the most advanced surgeries including eye, orthopaedic, oral and reconstructive services.
"The opening of University Health ushers in a new era for the organization and the care of patients in downtown Kansas City," said TMC President and Chief Executive Officer Charlie Shields. "With our focus on giving our patients quality specialty care, cutting edge technology and physicians with the expertise and resources you would expect from a premier academic medical center, University Health is the future of outpatient care in the metro area."
Construction on University Health, a $29 million, 90,000 square foot, outpatient specialty care center that offers patients easy access to a vast array of highly sought after services and a multi-disciplinary team of trusted academic physicians and surgeons, began in July 2014. The first services opened for patient care earlier this month, with additional areas opening in November and January.
"University Health gives patients who seek the simplest exam or the most sophisticated, cutting edge testing and treatment the highest quality care in one of the finest facilities in the metro area," said Sabates Eye Centers' president, professor and chairman of the University of Missouri-Kansas City's (UMKC) School of Medicine's Department of Ophthalmology and Vision Research Foundation president, Dr. Nelson Sabates. "In addition to the best in patient care and technology, University Health also offers the most advanced academic environment for teaching the next generation of ophthalmologists that will continue to provide Kansas Citians the best eye care for decades to come."
Services provided within University Health include: Sabates Eye Centers, UMKC Vision Research Center, Orthopaedics, Oral & Maxillofacial Surgery, Diagnostic Imaging, Retail Pharmacy Services, Obstetrics/Gynecology, Breast Health Services, Plastic & Reconstructive Surgery, Audiology, Urology, Ear, Nose & Throat, Pain Management, Cosmetic and Implant Dentistry and Outpatient Surgery. Located in the heart of downtown, with convenient access and parking, University Health delivers the best care with physicians who offer bright ideas for all medical needs.
For more information about University Health or to make an appointment, please visit us at universityhealthkc.org or by calling 816.404.2222.