We all have unique healthcare needs. University Health is committed to meeting those needs. We provide comprehensive and sensitive care to all people, and we're proud to serve the needs of the LGBT community in a welcoming and affirming setting.
LGBTQ-friendly doctors
We strive to provide a compassionate, welcoming environment where you can get the support and care you need. Providers from five disciplines collaborate to provide top-quality, gender-affirming care to our LGBTQ patients. We use a multidisciplinary team-visit approach allowing patients the opportunity to see all providers in one visit, if desired.
Our team comprises:
A primary care physician to coordinate regular medical care and provide continuity and integration of healthcare services, while pro-actively focusing on health promotion, disease prevention, and the diagnosis and treatment of acute and chronic illness.
An endocrinologist to provide excellence and expertise in evidence-based hormone therapy as well as diabetes or thyroid issues.
A psychologist to support emotional growth and behavioral health, helping to guide thoughtful decision-making.
A pharmacist to help navigate medication formularies and assist enrollment into programs for medication assistance, including PreP navigation.
A gynecologist to offer preventative services, well-person examinations, menstrual suppression, contraception, and preoperative counseling for gender-affirming surgeries. Counseling and treatment for pelvic pain, pelvic floor dysfunction, and fertility preservation.
A PreP (pre-exposure prophylaxis) Navigator/HIV Prevention Specialist to provide education and resources on healthy approaches to sexual wellness. To learn more about PreP, to get general clinic information or ask questions about LGBTQ care at UH, call Ryan Wilks at 816-219-7559.
A nurse to assist with teaching, medication refills and referrals to community resources, acting as an LGBTQ/Transgender health navigator.
A Program Director to oversee projects and initiatives for the LGBTQ Clinic to help best determine efficacy and future directions.
Whatever your healthcare needs, we are here for you and your family. From preventive care to chronic disease or sexual health monitoring and STD/HIV testing, our team is equipped to help. Our compassionate team comes from a variety of disciplines, but all are attuned to unique LGBTQ health issues.
Located in the heart of Kansas City's Health Sciences District, UH is an academic medical center, which means our providers are educators, training the next generation of providers. Because we are a teaching hospital, you'll have access to the latest medical breakthroughs and clinical trials.
LGBTQ navigation and patient advocacy
In the LGBTQ Specialty Clinic, we can help initiate referrals to any additional services you or your family may need. While we as a team make clinical decisions based on individual patient needs, we understand and respect that other specialists may sometimes require additional documentation and criteria. We are able to assist with World Professional Association for Transgender Health (WPATH) recommendations for surgical intervention and can assist with referral letters. Additionally, we can help put you in touch with other community resources you may need.
We are also pleased to offer an LGBTQ Patient Advocacy Program. This service focuses on the needs of the transgender community. However, we help all LGBTQ people and their families navigate healthcare. Additionally, University Health utilize a Patient and Family Advisory Council (PFAC) as well as Community Advisory Board (CAB) to ensure that all the needs, concerns and comments of our diverse patient community are heard. Each of our specialty clinic medical professionals is dedicated to training and mentorship and dedicates many hours every year to providing consultation, supervision, workshops, lectures, formal teaching at local universities and community engagement on behalf of LGBTQ advocacy and social justice.
No matter your needs, we are here to help. To make an appointment or for additional information, call 816.404.4086 or email us at lgbtqspecialtyclinic@uhkc.org.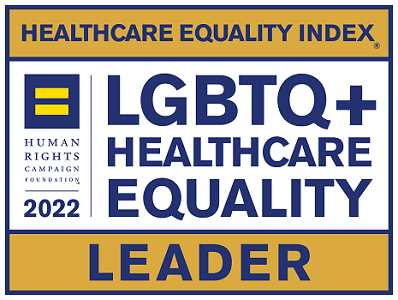 LGBTQ Healthcare FAQs
Q: What is LGBTQ Healthcare?
A: LGBTQ Healthcare, or LGBTQ medicine, is simply healthcare services directed to the unique needs of our LGBTQ (Lesbian, Gay, Bisexual, Transgender, and Queer or Questioning) patients. We understand that going to the doctor can be an intimidating and often anxiety-provoking experience due to a negative experience at a previous doctor! Our LGBTQ healthcare providers are committed to being open, compassionate, welcoming and affirming to your identity, your needs, and your family, however you define them.
Q: Is LGBTQ healthcare different from transgender healthcare or transgender medicine?
A: It depends. Our transgender and gender nonconforming brothers and sisters are an integral part of the LGBTQ community. We understand the barriers to healthcare for transgender individuals can often be much greater than for others, with roughly 70% of transgender individuals reporting they have experienced discrimination in a healthcare setting! We believe this is unacceptable, and strive to not only provide the highest quality and most affirming healthcare, but also to provide LGBTQ training for healthcare providers within the University Health system. This includes specialized training, education, and outreach focused on transgender medicine LGBTQ medical care.
Q: What is a transgender doctor called?
A: A physician that provides specialty healthcare for transgender individuals by prescribing and managing hormone replacement therapy is called an Endocrinologist. This is a doctor that specializes in medicine that focuses on hormones and how they impact the body. A common disease that endocrinologists treat, for instance, is diabetes. In the University Health LGBTQ Specialty Clinic, our endocrinologist works closely with each transgender or gender nonconforming patient to make sure they are on a hormone regimen that works for them and meets their goals, whether they are feminizing or masculinizing.
Q: What do your LGBTQ healthcare providers treat?
A: Our providers in the LGBTQ Specialty Clinic focus on primary care, endocrinology (hormones), behavioral health (short term interventions based on emotional health and wellbeing), pharmacy, GYN, and nursing. All of our providers are competent and educated in LGBTQ trauma-informed care, meaning they have an understanding of the particular challenges LGBTQ people can face in healthcare settings.
Q: What is LGBTQ sexual health?
A: An important part of LGBTQ patient care is understanding the sexual behaviors of our patients, including any risks to your health. The University Health LGBTQ Specialty Clinic will speak openly with you and answer any questions you may have about sexually transmitted diseases (STDs), safe and fulfilling sex, and access to any ongoing support you may need. A few topics we might ask you about would be sexual orientation, sexual partners, sexual assault, safe sex, the make-up of your current relationship if you are in one (i.e., monogamous, polyamorous, open, etc.), and any recent or historical STD testing, including HIV, and helping you access PrEP if desired and appropriate.
Q: How do I find transgender healthcare near me, or LGBTQ healthcare near me?
A: We understand finding a medical provider you trust and accessing affirming LGBTQ healthcare can be challenging. Many hospital or medical systems do not advertise LGBTQ primary care or specialty care, so it can be hard to know where to turn. It may be hard to figure out if a doctor is going to be LGBTQ friendly. We urge everyone to have an open conversation with their provider on the first visit, maybe even asking, "What is your experience treating or working with LGBTQ people?" Word of mouth (asking your friends) is always a good way to discover great doctors that you know will treat you with the respect you deserve. At University Health LGBTQ Specialty Clinic, you can be assured that each of our providers has considerable experience and competence in providing caring, open and compassionate treatment.
Q: Do you offer transgender surgery ("top surgery," "bottom surgery")?
A: University Health offers top surgery (mastectomy and enhancement) services in an affirming and supportive environment within our University Health Plastic & Reconstructive Surgery Center. In the LGBTQ Specialty Clinic, we can provide referrals and pre-surgical clearance interviews that adhere to the World Professional Association of Transgender Health (WPATH) standards and guidelines.
Q: Why should I come to Truman Medical Centers/University Health for my LGBTQ primary care and specialty services?
A: University Health is an LGBTQ healthcare equality leader as designated by the national Healthcare Equality Index. This ranking determines which hospitals and medical centers throughout the country are doing a great job providing competent, affirming and modern LGBTQ care to both patients and employees. University Health is proud that for the last 4 years we have achieved Leadership status, which is the highest level of service.