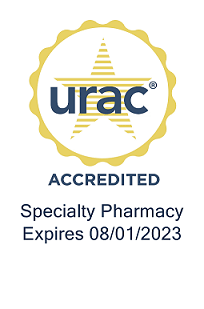 At University Health, we offer specialty pharmacy services for our patients who are prescribed certain high-cost drugs, like hepatitis C or HIV medications. These medicines may not be readily stocked at a drugstore pharmacy, so to get them you may need to place a special order. That could result in delays in refilling your prescriptions.
We can provide you easy access to your specialty medicines—along with a lot of support.
For starters, if your medicine requires preapproval, we will work with your insurance to help you get your drug covered. And then we will partner with you to help you take your medicine correctly. This helps make sure that your medicine will help you treat your chronic condition.
Your doctor may recommend the specialty pharmacy service for you. Or you may request this service by calling the specialty pharmacy at 800.255.3005 or 816.404.4200.
Once our specialty pharmacy receives a prescription, our team begins to work. If University Health is able to fill your prescription, we will enroll you in our specialty therapy management program.
Our program is designed to help you during your therapy by providing education, compassion and assistance. Our pharmacy team will help you with instructions for how to handle drug recalls, safely dispose of drugs in accordance with state and federal laws and address adverse drug reactions. Our pharmacy team is also available to help with reporting any concerns or suspected errors.
Download the Specialty Pharmacy Patient Guide
Pharmacy overview
The pharmacy staff ensures products are available and distributed to University Health clinics, operating rooms, and the medical imaging department. We perform compliance monitoring of medications and contrast media administered to patients seen at University Health clinics and receiving medical imaging services.
Our friendly and knowledgeable staff are ready to assist with patient education, cost savings programs and prescriptions refills. The pharmacy staff works closely with your University Health provider to help with the success of your therapy.
If you are a specialty pharmacy patient, your AMC works directly with you and your University Health healthcare team to provide you with a knowledgeable resource who can help save time and money on your specialty medications. Your AMC will assist with benefits verification, prior authorization requests, financial assistance, refill reminders, and scheduling. If you are not able to receive your prescription through University Health, your AMC will work to transfer your prescription to an in-network pharmacy and continue to be your resource. At any time, you can contact your AMC and they can help navigate any questions that you may have.
The specialty clinical pharmacists are here to educate specialty pharmacy patients about specialty medications and answer any questions you may have about your care. Our pharmacists work directly with your University Health healthcare team to make sure your specialty medications are as safe and effective as possible. During the course of your therapy, our pharmacists will explain how to take your medicine correctly and the importance of adherence.
They also will prepare you for any possible side effects and explain the purpose of your lab tests. They are available to discuss how to get the most out of your medication therapy and provide resources that may help you be successful during your therapy.
Ngoc "Nicole" Tran, PharmD, CSP, earned her doctor of pharmacy degree from the University of Missouri–Kansas City. Dr. Tran is board-certified in specialty pharmacy (CSP). She has diverse work experience in community and specialty pharmacy settings. She joined University Health in 2019 and looks forward to providing ambulatory care and specialty pharmacy services to the Kansas City community.
For additional information regarding your health condition, please visit mayoclinic.org.

Disposal information: