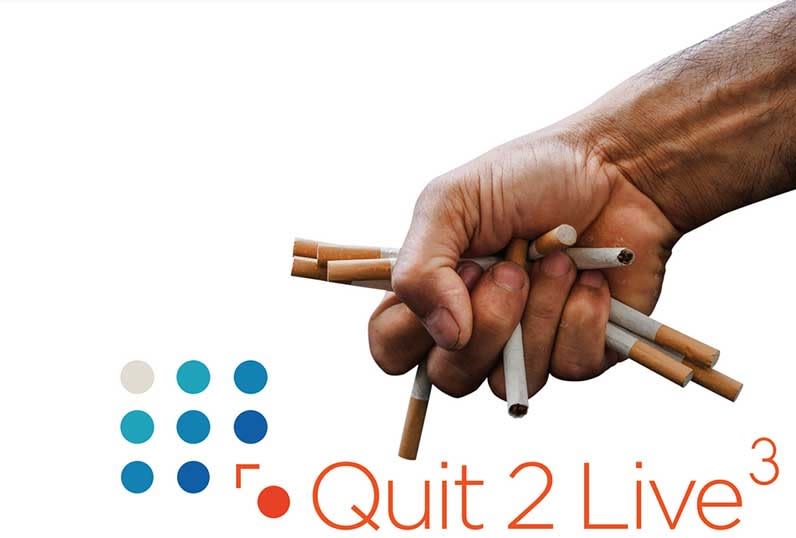 Are you an African American cigarette smoker and ready to quit?
There is a research program going on right now for you!
Swope Health, together with University Health and the University of Kansas Medical Center's Quit2Live Team, want you for a research study.
For those who qualify, Quit2Live is a state of the art program, which uses medication (nicotine patch for all and some will receive Chantix and/or Zyban) and information/strategies to help you quit.
Why is this study for African American only? About 15 percent of African-Americans are smokers, a number that is about the same as non-Hispanic whites. Although African-American smokers generally smoke less than 13 cigarettes a day compared to 17 a day for non-Hispanic whites – African-American smokers experience more smoking-related disease and death. (See information from the Centers for Disease Control and Prevention.)
To qualify, you must:
Be an African-American
Be at least 18 years old
Smoke 5-30 cigarettes per day
Be available for 6 office visits over the course of 6 months at Swope Health Central
Qualified study participants will:
Get information designed to help you quit smoking
Receive more than 4 months of a quit smoking medication (nicotine patch for all and some will receive Chantix and/or Zyban)
Receive compensation if you qualify
What are the benefits of participating in the Quit2Live3 stop smoking study?
You will receive information and care designed to help you quit smoking.
You'll receive more than four months of a quit-smoking medication – either the nicotine patch, Chantix or Zyban. There's no cost to you for any of the treatments.
The counseling will help you build a plan for quitting, including steps like setting the quit date, building a support network, and exploring personalized tools.
You'll be helping us find the most effective method of treatment to help African Americans quit smoking.
The results of this research will help build scientific knowledge and provide important lessons in treating nicotine addiction in African Americans.
We will help you learn how to live life as a non-smoker.
This program is free of charge and you will be compensated for your time and efforts if you qualify.
This program is overseen by Dr. Nikki Nollen at the University of Kansas Medical Center in partnership with Swope Health Central and is funded by the National Institutes of Health. University Health assists with recruitment only. All in-person visits occur at Swope Health Central, 3801 Blue Parkway, Kansas City, MO 64130. Two major bus lines serve this location.
Quit2Live3 is the third in a series of clinical trials or research to answer complex questions about treatment for stopping smoking. It also is a continuation of the "Kick It at Swope" research partnership launched in 1999 at Swope Health with more than 3,000 African-American smokers participating.
For more information:
Quit2Live3
816-388-0303 (call or text)
KickItatSwope@gmail.com
Facebook page: https://www.facebook.com/Quit2Live/