Rare identical newborn triplets born at Truman Medical Centers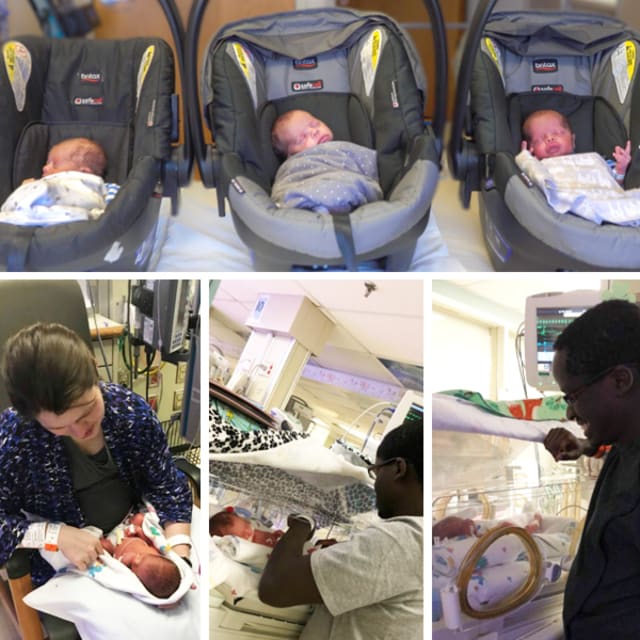 One in a Million!
From Good Morning America to the U.K's Daily Mail to Nairobi News, the births of identical triplets is drawing international attention to Truman Medical Centers (TMC).
Baby boys Abishai, Elkanah and Ron Choge were born at Truman Medical Centers (TMC) on Thursday, February 22, 2018. Dr. Emanuel Vlastos, the Medical Director of Fetal Therapy at Children's Mercy delivered the triplets. Dr. Vlastos has said the odds of having naturally occurring, identical triplets are one in a million. The triplets' parents, Caleb and Nicole Choge, have a unique story. Nicole is from Ottawa, Kansas. She met Caleb, who's from Kenya, while he was in the United States, studying to become a pilot. The couple married and decided to call Kenya home. They are parents to a darling two-year-old Corban.
When doctors in Kenya discovered Nicole was carrying multiples, the family headed back to Kansas City. Nicole credits divine intervention for connecting her with Dr. Vlastos at Children's Mercy. Since Nicole was passionate about avoiding a cesarean section, the birth was scheduled at TMC. Neonatal Intensive Care Unit teams were lined up and ready to care for the babies, who were born at just 34 weeks.
It may seem odd that a mother start her care at one medical center and deliver at another, but because of the unique partnership in the UMKC Health Science District, this kind of cooperation happens frequently. Children's Mercy doctors from its Fetal Health Center and neonatology team staff TMC's NICU. Through this collaboration, the two hospitals' teams of experts train for extraordinary circumstances every day, and families know we're ready for anything.
Dr. Joshua Petrikin, a neonatologist at Children's Mercy and the Medical Director of Truman Medical Center's NICU, says the babies born that early can face significant health challenges, but noted that the Choge triplets didn't seem to notice that were born early.
The triplets were able to go home after a two week NICU stay.
A family friend has started a Go Fund Me Page. To visit, click here.
To read/view media reports, follow these links: